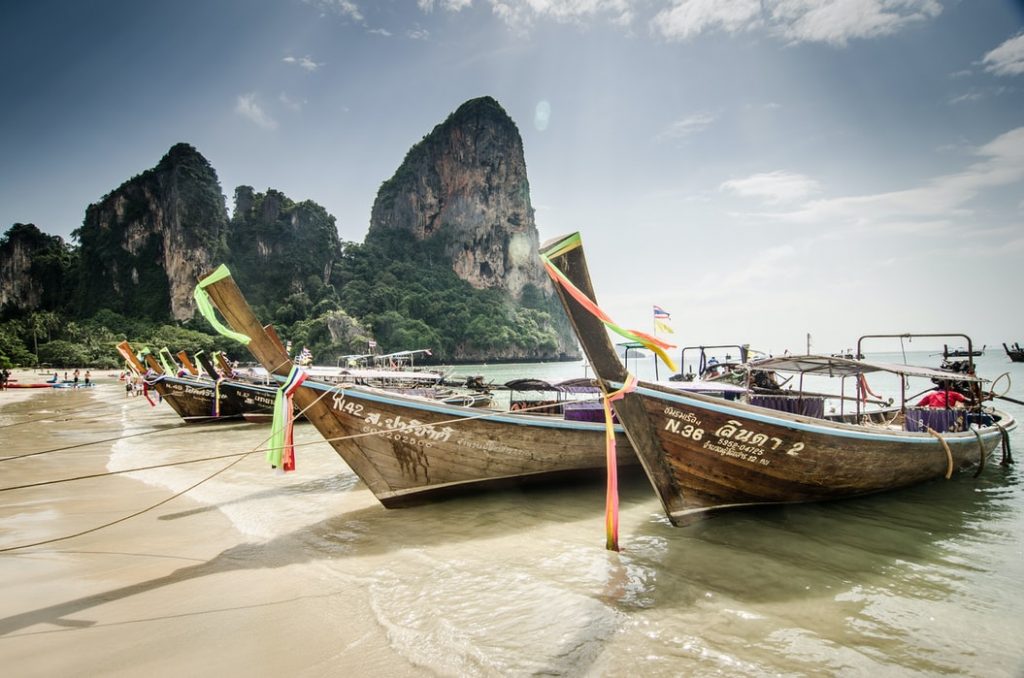 Thailand, the tropical paradise enjoyed by millions of tourists every year, an all-encompassing utopia that caters for all. From the idle to the energetic, the explorer to the hedonist, the contemplator and the meditator, all have found their piece of idealism within the land of smiles. And then, there are also those that want a little bit of everything.
For those that want to spread their wings and discover as much as possible about Thailand, and perhaps themselves, Krabi province seems to have evolved into the perfect destination. The province sits on the West coast of the Kra Isthmus with its coastline bathed by the warm clear waters of the Andaman sea. Sitting on this idyllic coastline you will find Ao Nang, Ao Nang is magnet within Krabi that attracts visitors using it as a hub for their holiday adventure.
Seeing and Doing in Ao Nang
Most holiday makers will find everything within easy distance of the beach, running East to West the beach area is where visitors congregate to enjoy stay. It is also from here that travelers can plan and arrange the spreading of their curious tentacles to take in the sight, sounds, smells and adventures that the surrounding area has to offer.
The beach is plentifully dotted with bars and restaurants that vary in style, provision and affordability, there's something to suit every taste and budget. The main beach road which runs in parallel is a hive of activity day and night. The shops are what you would expect to find in a bust tourist location. Local produce, arts and crafts and the inevitable souvenir shops are aplenty.
The one shopping phenomenon which is conspicuously absent from the retail scene is the glitzy neon of the modern shopping mall, which is perhaps is not a bad thing. There is though the ubiquitous backbone of Thailand's high street shopping, the 7-11 shop. As with any busy location with plenty of foot traffic, whichever way you turn you will spot the recognizable red, orange and green logo, so you should never go short of anything you require.
Of an evening the nighttime entertainment slowly swings to the fore, the music starts to fill the air, the girls, and boys, come out to play and hedonism becomes the order of the of witching hours. For many, dancing, fun and merriment are all part of a holiday in the Land of Smiles, and in this respect, just as in all others, Ao Nang doesn't disappoint.
To the Western end of Ao Nang beach is another, that of Nopparat Thara Beach. This beach is extremely picturesque and has been designated as a national park, thus tends to be well cared for and maintained. From here, at low tide, you can take a leisurely walk to some the nearby limestone islets. Being in the shade of these craggy, grey, haphazard looking megaliths creates an almost ominous feeling of foreboding, but with their capping's of lush greenery they manage to maintain their human attraction.
Go a little South of Ao Nang is Rai Leh Beach. This is one of the most pristine in the area and is well worth a visit. Given the local topography, the easiest way to get to Rai Leh is by long-tail boat, or for the more energetic, by kayak. Kayaks can be hired by the day from Ao Nang and are a great way to explore the surrounding coastline.
With the energetic in mind, and the adventurer, Ao Nang is an ideal location to try your hand a spot of rock climbing. Ao Nang has approved agents that will arrange your rock climbing adventure, be you a beginner or an experienced climber, they will take care of everything, including meals. Equally, scuba diving is well catered for at every level. Adventurers and adrenalin junkies will feel properly at home in Ao Nang.
But what for those looking for something at the other end of the scale, maybe a relaxing spa or massage? In and around Ao Nang you will see many shop fronted massage and spa salons. Traditional Thai massage, foot, face and head, it's all on offer. But what about a combining it with a bit of luxury? Let's Relax is a chain of professionally run spas, and Ao Nang has its own outlet. The practitioners at Let's Relax are well trained and professional. So, relax, enjoy and indulge.
Staying in Ao Nang
Think of what you want and what you can afford, then be sure that Ao Nang will have it. Ao Nang attracts all, and so caters for all, every want, whim, will and budget. From beach huts and bungalows, hostels to 5 star hotels, with its accommodation, Ao Nang exhibits the same diversity as with everything else it offers.
Staying is Ao Nang is unlikely to disappoint, whether your objective it to lounge by a hotel pool or to go on an elephant trek, to dance the night away and watch the sun rise above the Andaman sea, for all ages Ao Nang is your place of discovery.
Visit Phuket Ferry for the ferry schedule to and from Ao Nang.