Sailing your way around Hong Kong would be a great way to spend your vacation. The concept of cruising the waters allows you to access several advantages, such as choosing whether to go to popular tourist attractions where most of the crowds are, or spend it in a more tranquil location far from the distracting crowd and surrounded by the beauty of the sea.
If that fits your tastes, let's start your preparation by knowing which island destinations and yacht charter providers you'll need to check out.
Double Haven
It is an official marine park that is famous for its marine life. It is a haven encircled by Crescent Island, Crooked Island, and Double Island.
The calm water would make you love to sail and explore or stay and go sightseeing. Suppose a challenging hike, running, or casually strolling in nature is your thing — then you should try the famous trail in Double Haven that showcases the park's geological novelties, local culture, natural habitat, and picturesque beauty.
Sai Kung
As the second-largest area of the landmass in Hong Kong, it's not surprising that there are many land-based activities that you can do. A few special activities that may pique your interest are hiking while enjoying the beautiful scenery, visiting the nature trails in country parks, or feasting on the street food delights.
But of course, we must remember to mention some water-based attractions. You should note the floating seafood market and dip in the freshwater pool at Sai Wan Beach. Long Ke Wan, Millionaire's Beach, Snake Bay, and Tai Long Wan are a few more beaches and bays to note down.
Lamma Island
Lamma Island will be a great addition to your destination list if you're tired of the usual skyscrapers and bustling city. It is another island that boasts its beauty, tranquillity, and laid-backness. A couple of things you should do on this island are:
To eat and dine at the breezy alfresco restaurants atop the water.
Ride a bicycle to tour the villages
Enjoy the hikes & trails (Lamma Island Family Trail, Ling Kok Shan Hike, Mt Stenhouse Hike, and Hong Kong Greenhouse Trail)
Visit beautiful beaches (Hung Shing Ye, Lo So Shing, Power Station, Sham Wan, and Shek Pai Wan)
Lantau Island
Here is another island that offers various activities a whole family can enjoy together. You can first go to Mui Wo, where you can see a secret cave and waterfall.
Then, you could visit and explore places like the Big Buddha, Po Lin Monastery, and Wisdom Path at Tai O. While you're at it, remember to look around and taste their local creations, as they are famous for street snacks. Other specific activities you can do are camping, glamping, surfing, and kayaking.
Soko Islands
It is a group of islands that consists of Siu A Chau, Tai A Chau, and a few smaller islands nearby. It's a less populated destination. It has once been the home of a small community, so you'll see abandoned houses, ruins, and shrines when you explore.
If you want remoteness and tranquillity, you'll have to check this island out. And if Lantau Island is also on your destination list, then you should go to Soko island next, as they are pretty close to each other.
Tap Mun Island
Want to stay on an island that's safe for your kids? Then Tap Mun Island should be on your list of destinations. There are plenty of wide, grassy slopes for youngsters to run around and play on throughout the island, and the occasional stray cow will keep them occupied.
The island has green slopes and rocky coastlines. The hike is easy, and the hilltop pavilion in the middle of the island is something you shouldn't miss, as this offers an expansive view of the ocean and nearby islands. Don't worry if you find it troublesome to read a map since the island is well-marked with signposts.
Tung Ping Chau
Do you love seeing rock formations? Then Tung Ping Chau would suit your taste, as this place is blessed with geometric-like patterns of thinly-bedded sedimentary and blocky rock. You can use the Ping Chau Country Trail to explore the island's coastline thoroughly.
Besides sightseeing on the land, you can also snorkel and dive at Cheung Sha Wan beach. This beach is rich with coral reefs under its turquoise blue water.
Yim Tin Tsai
This tiny island offers two Unesco award-winning attractions, the natural salt pans and the century-old St. Joseph's Chapel. But of course, there are a few more places that are worth looking out for:
The Yim Tin Tsai Heritage Exhibition Centre displays traditional attires, artifacts, and utensils.
The Salt and Light Preservation Centre, which serves as the island's visitors' centre, sells souvenirs.
The Spring of Living Water was the only source of freshwater before the drought in the 1960s.
The Jade-Girdle Beach, where you'll find a bridge that connects Yim Tin Tsai and Kau Sai Chau island.
The Sai Kung Town Centre offers laid-back dining options or a stroll for quick snacks.
Po Toi
Here's another island for those who love rock formations. Some unusual rock formations are the supine monk rock, tortoise rock, palm rock, conch rock, and ancient rock carvings. You can also visit the Old Mansion of Family Mo, the Nam Kok Tsui Lighthouse, the Tai Wan village, and the Tin Hau Temple.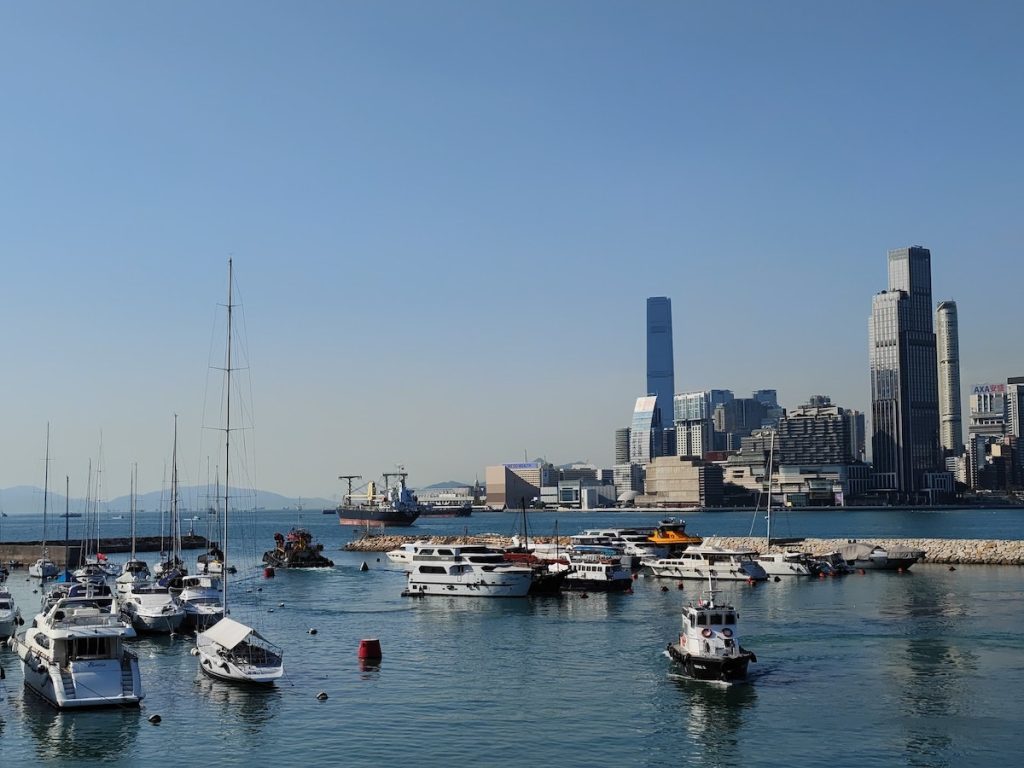 Here Are A Few More Destinations To Consider
Places you can visit in Hong Kong while Yacht chartering are broader than what was listed above. A few more islands to consider were the following:
Bluff Island – A significant zone for corals and different marine life.
Basalt Island – Famous for its natural sea arches and caverns.
Central Pier 10 – Iconic for the skyline of Victoria harbour.
Clear Water Bay – Known for the Hong Kong University of Science and Technology and High Junk Peak Religious buildings.
Nam Fung Wan – Offers freshwater lagoons, hidden coves, and a known spot for junk parties.
Repulse Bay – Free public beach known for its silky soft white sand and clean water.
Conclusion
Did you find an exciting place? If yes, congrats, you're one step away from achieving that yacht chartering vacation! If not, it's alright; you still have plenty of time to decide and compare places and vessels to use.