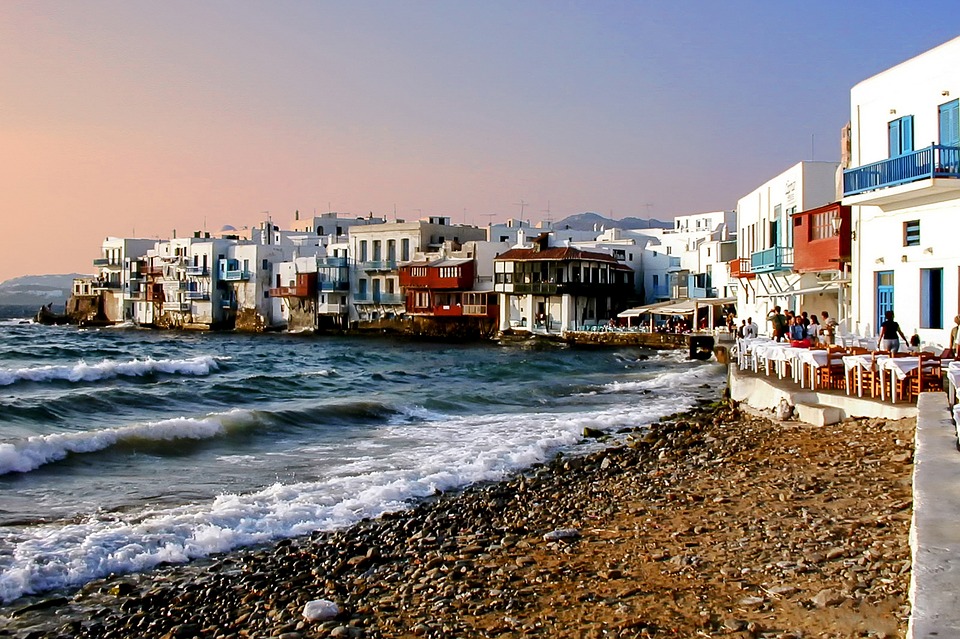 Greece is known for having an interesting and unique appearance and tons of stunning architecture, but the island of Mykonos, in particular, stands out with some of the best beaches and oceanic scenery in the world. Although you shouldn't expect to find a full range of landscapes stretching from jungles to mountains, one could easily argue that this tiny island in the South Aegean is unbeatable when it comes to the sheer quality of its beaches and the weather.
With a constant gentle sea breeze that caresses the shoreline, Mykonos is affectionately known as "The Island of the Winds, "and the enjoyable climate is a perfect complement to the area's inherent natural beauty, making every day a perfect day for a trip to one of the following four natural scenery spots:
1. Super Paradise Beach and Paradise Beach
Located near the similarly named "Paradise Beach," Super Paradise Beach is called so because it's less commercial and more scenic than the impressive neighbouring beach. Although there are no hotels on the beach itself – which makes it more private and natural – this range of Greek villas in Mykonos is a relatively short drive away. It's also a short trip from Mykonos Town, so the fact that there are only a few bars near the beach isn't too big of an issue for party animals. Of course, the regular Paradise Beach is a sight to see all on its own and is often preferable for people who'd rather be closer to the nightlife.
2. Platis Gialos Beach
Considered by many to be the best beach on the island, this large white sand beach is conveniently located a short bus trip from Mykonos Town. There are also water-taxis and other transport that offer trips to several more remote beaches in the area, including Super Paradise Beach. There are a number of beach hotels in the area, so you won't have to travel far to find suitable accommodations. Furthermore, there are more buildings situated near the water than in Paradise or Super Paradise Beach, and the nearby mini-market and slew of restaurants make it a great place to swim and then eat.
3. Paraga Beach
If a bustling beach is more your cup of tea, Paraga is a busy stretch of shoreline that is also located just outside of Mykonos Town. This beach has enough natural beauty to hold its own on this list, but its real highlight is the party scene that emerges at night. This is a great place to watch the sunset and then celebrate with tons of interesting people from around the world. There are also a few restaurants and stores along the beach, so it's better for someone who prefers a more civilised stretch of sand.
4. Ornos
This beach is commonly called the "most family-friendly" beach on Mykonos because the nightlife and partying isn't too wild for the little ones. But don't let that fool you into thinking it's boring, as it's one of the more commercialised beaches in Mykonos, offering plenty of nearby eating, entertainment, and shopping experiences.
Other Reasons to Visit Mykonos
Of course, after a while, you may find yourself wanting to do something else other than staring off into the amazing Aegean sunset. When that time comes you'll be pleased to find out that the island is home to both the classiest and wildest nightlife our planet has to offer. In fact, you could even go so far as to say its other-worldly. Plus, there's no shortage of shopping and fun activities to engage in, and the architecture and culture make it a photographer's dreamland.