Mumbai is the second largest city in India and any visitor will find reasons aplenty to include it in their list of places to visit. You may have heard of Mumbai before and, perhaps, even been fortunate enough to visit other popular cities in Southeast Asia, but rest assured Mumbai has some jewels of its own that set it apart from anywhere else in the world.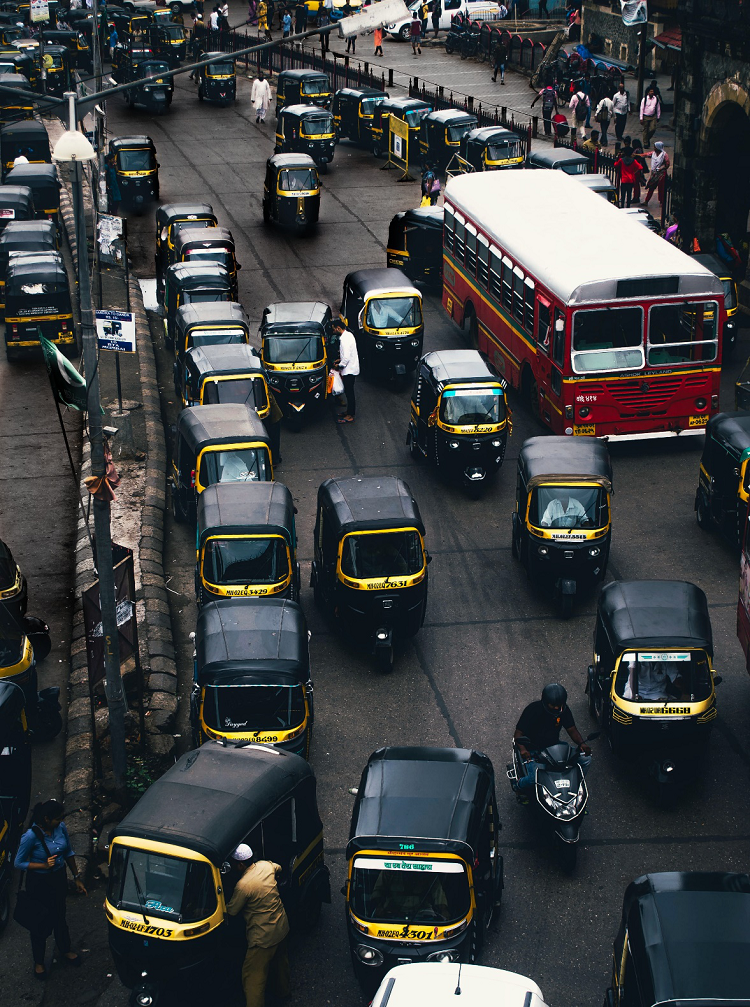 A street in Mumbai
Once you set foot in its hot and humid streets, you are stepping into a different world.
Amazing food is being cooked on the go and the smell invades the air. Hard to resist as it may be, your journey is only starting. Don't expect grand monuments from the likes of those you may find in New Delhi. Mumbai is more of a cultural cauldron of diverse experiences.
If history and architecture interests you, you will be delighted to visit Mumbai's most famous monument, the Gateway of India.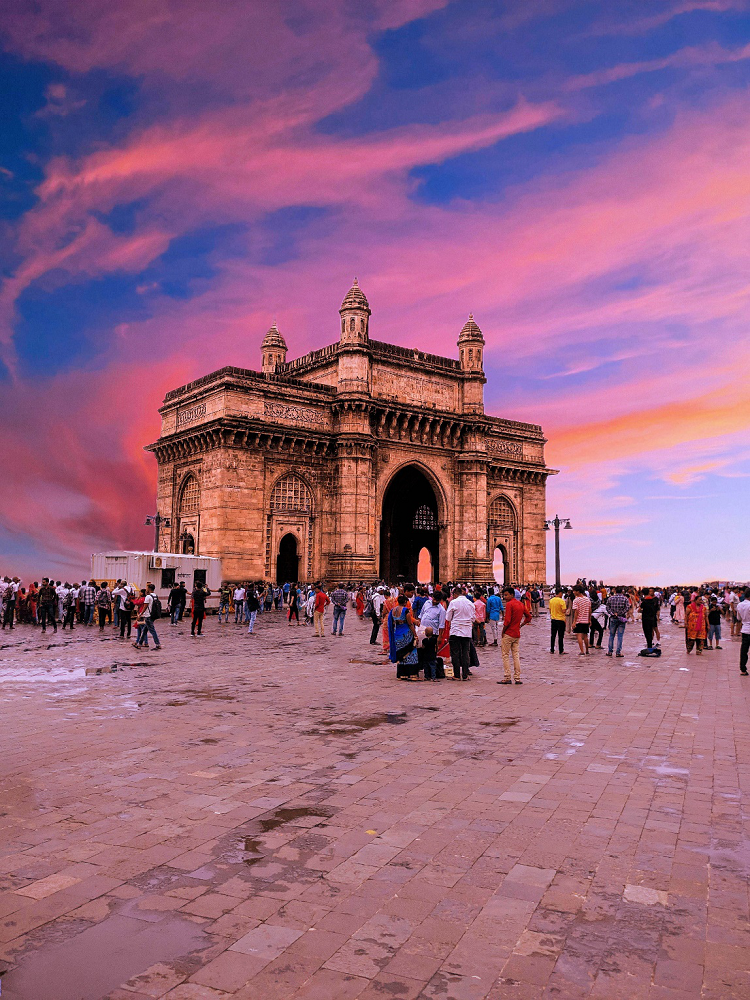 Gateway of India, Mumbai
Built in 1924, it was meant to celebrate King George V and Queen Mary's visit to Mumbai. It is also significant for being the last point of departure of the British troops, marking the end of the British colonial presence in India and shortly after, India's independence in 1947.
You'll find the area is alive with the buzz of little businesses as local vendors make a living here.
You haven't been to India really until you've dived deep into a local Market.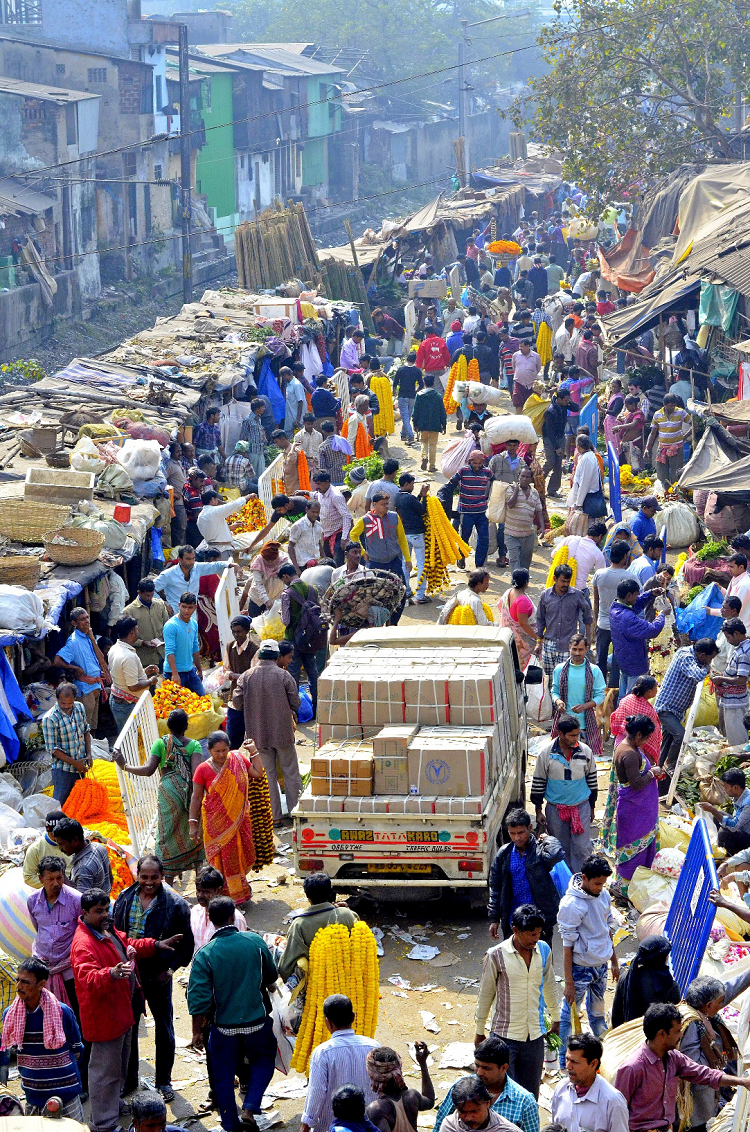 A local market in India
Unique souvenirs can be found in places such as Chor Bazaar Thieves Market. Here you will find a multitude of handcrafted articles with incredible prices. The variety is in fact overwhelming and you're well advised to take the opportunity to find that one piece that will remind you of this trip for life.
If it's color and action you're after, we remind you Mumbai is the center of the Bollywood Universe.
Being there poses as a unique chance to visit Film City, where most of the action takes place and many of the great Bollywood movies are created and filmed.
Tours are available and to make your connection more memorable, we advise you to splash a couple hours and stop by a local cinema through one of these magnificent and unique pieces of Indian Culture.

A railway station in India
When you think of India's transport system, you're inviting your mind to conceive the idea of huge trains packed with people on top of it and hanging out of its carriages. In fact, you're not far from reality as it is right around the corner.
Considering Mumbai is India's second largest populated City, visiting a railway station is a unique experience.
Should you feel brave enough to embrace the crowd, plan ahead and go on a ride yourself to your next destination.
It will give you a unique perspective of what up to 8 million people go through every day to commute around the city – and many stories to tell.
Whatever you may find that attracts you to Mumbai in the first place, what you will find is a unique and fast-paced city that embodies the Indian culture. In many ways, you will be faced with a way of life that is hard to find anywhere in the western world and some habits that remount to the long-gone British presence.
Considering its incredible 18.4 million inhabitants, you'll be not only walking its streets packed with people, but also ones that are filled with emotion, adventure and unique experiences that await.
Though the city isn't famous for great architecture and historical sites, it still delivers gladly on what it's like to visit an Indian metropolis.
Wherever your journey may originate, you'll most likely find a renewed sense of gratitude and cultural gain when you're faced with a functioning world that most likely differs in so many ways from the one you're used to.
If you're coming from Singapore, check out a Singapore to Mumbai flight here today.
With that in mind, Mumbai is a unique place to consider and head to on your next trip.