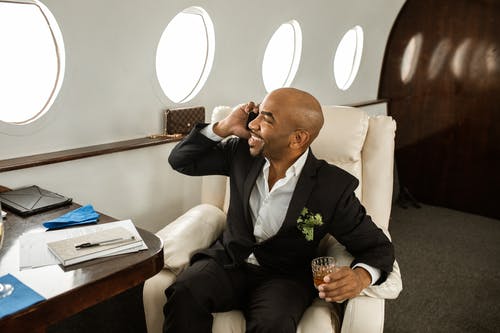 In the past, it seemed like private jet travel was only available for the world's elite. Fortunately, there's a company that wants to change this and make private jet travel a possibility for everyone.
Who is Jet Token?
This company is a platform that allows you to book exclusive private jet flights. But you don't need to be a CEO or billionaire to travel with this company; all you need is a smartphone. Within a few moments, you're booking a private jet from anywhere in the world just by using a simple app. The minds behind this company aim to make this app like Uber for the private jet industry.
How This Company's App Works
When you're ready to book a private jet, you only need to download Jet Token's app. Next, you'll go to the Charter Marketplace. This hub allows you to list your flight requirements while also comparing the costs of current available flights. With this system, you're saving money on flights and streamlining how you travel.
Using this company's app is simple. Here's how to use it in three steps:
Enter the details of what flight you prefer
Choose the aircraft you want to fly in
Submit a flight request
When it comes to payment, customers can choose either a charter, Ownership, or Membership Program options. Choosing the charter option allows you to pay as you fly. The Ownership Program enables you to buy jet shares and get up to 75 in-flight hours per year. This company's Membership Program is better if you're a less frequent flier, giving you up to 25 in-flight hours each year.
Jet Token's Team of Executives
Led by George Murnane and Mike Winston, this company has backing from professionals with decades of experience in the aviation industry. George Murnane has also served as a chairperson for several aviation companies. With such a strong leadership team, it's easy to see why this business already has backing from thousands of shareholders.
Certain companies can have lofty aspirations. Unfortunately, some businesses never find the inventory or equipment to match their dreams. Jet Token already has backing from HondaJets, the largest private aircraft fleet in the United States. This business also partners with Gama Aviation for assistance with aircraft servicing and flight operations.
How This Company is Changing the Private Jet Industry
There are many ways that this company is changing the world of private flight. First, this business allows customers to sell back portions of flight time they're not using. This policy differs from the strict rules and penalties the private jet industry is known for. Another feature that sets this company apart is that it allows customers to pay with blockchain and bitcoin currencies.
In conclusion, Jet Token is revolutionizing the private flight industry. Currently, this company's travel app is available on Apple's App Store for iOS devices. Fear not Android users, this app will be available in the Play Store before the end of 2020.