After celebrating the happiest day of your life together, a honeymoon allows for some much needed relaxation. It's a time reserved exclusively for romance and above all else, indulgence. Whether your idea of the perfect honeymoon is lounging on the beach all day, or even taking part in some watersports, it's important the experience caters to both of your needs.
So when it comes to choosing your honeymoon location, it should be somewhere special that you'll remember for the rest of your life. Here's our take on the top 5 snazziest honeymoon destinations to give you some inspiration.
Balearic Islands
You don't have to travel far to find a dreamy honeymoon destination, as the Balearic Islands are just a two hour flight away from the UK. One of the best ways to explore the rugged coastlines is via a boat trip, such as an excursion to Cap Formentor and Cala Figuera. You'll also find more than your fair share of tranquil beaches, especially in the likes of Menorca. For couples who prefer a buzzing nightlife, Ibiza is world-famous for its party atmosphere and legendary nightclubs. All in all, the Balearics couldn't be a more versatile destination for couples looking to honeymoon here.
Caribbean
What better way to celebrate your new life together, than taking in the sights, sounds and flavours of the Caribbean? With destinations including The Bahamas, Barbados, Jamaica, and St Lucia, honeymooners are spoilt for choice wherever they choose. Life in the Caribbean is all about slowing down, enjoying life and taking in the scenery around you. That mantra becomes all too easy to live up to, when you're surrounded by crystal clear waters and perfect golden sands. The memories you'll make here on your honeymoon will last a lifetime.
Dubai
If your idea of a perfect honeymoon is experiencing pure decadence and glamour then Dubai should be top of your list. This middle eastern destination incorporates the buzz of the city, while also offering up some incredible beaches. The culture of Dubai is unlike anywhere else on Earth. So too is the architecture, which is nothing short of palatial. You'll close each night with a mesmerising Arabian sunset, as you experience some of the best hospitality the world has to offer. Honeymooners have an endless choice of 5 star hotels, and even the 7 star Burj Al Arab if they choose Dubai.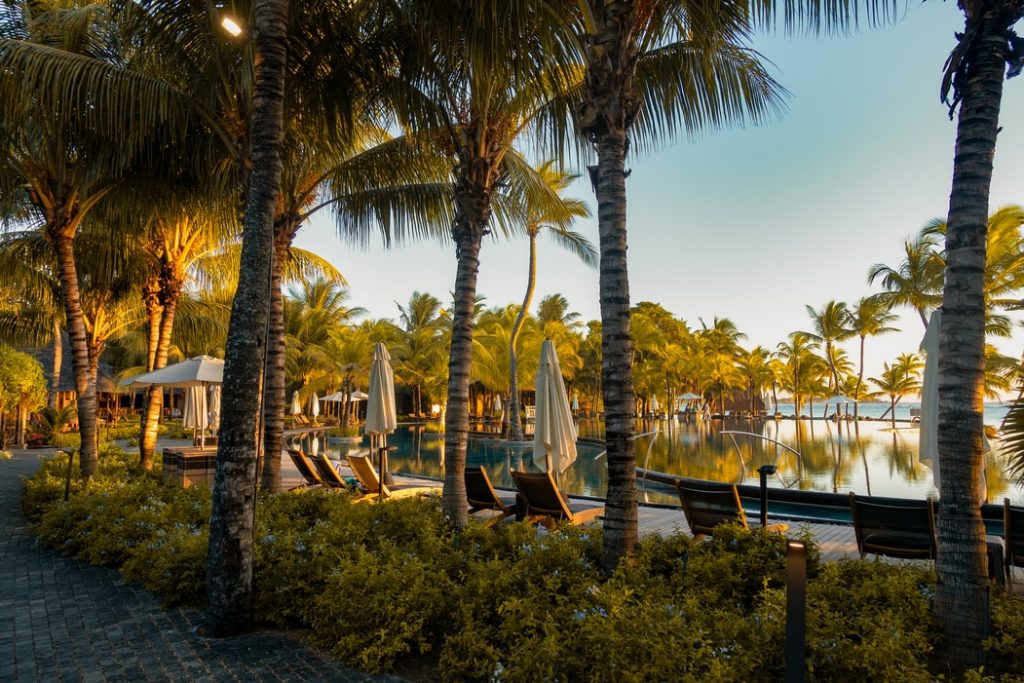 Mauritius
When it comes to snazzy locations, there's perhaps none more so than Mauritius. Nestled in the Indian Ocean, the island is awash with luxury hotels, including couples-only resorts, such as the Paradise Cove Boutique. Here, honeymooners can enjoy secluded luxury, fine dining and above all else, peace and tranquillity as they start their married life together. Whatsmore, the hotel even has 'love nests' where couples can enjoy some romance in absolute privacy as they gaze over the ocean. Though, whichever resort you choose, you'll find opulence at every turn in Mauritius.
Seychelles
Seychelles is a cluster of 115 individual islands that is also situated in the Indian Ocean. Here you'll find irresistible azure seas that lap against the crisp white sand. Often dubbed 'paradise on Earth', Seychelles couldn't be a better place to unwind after your nuptials. Enjoy a dip in the ocean or even try some snorkelling as you absorb the breathtaking landscape. Temperatures rarely dip below 24°C, making it a hotspot for honeymooners all year round.