Water activities are fun for all. Whatever your level of adventurousness is, there is a water activity that's perfect for you. Whether you are a daredevil or someone who likes to play it cool, there is quite a range of thrilling activities to try, from kayaking, to surfing, and to deep diving.
Here are four amazing places you can visit to take on cool water adventures:
1. Maui, Hawaii (Kitesurfing)
Maui is considered as the international headquarters of kitesurfing, and that is not surprising at all. Maui's blue waters are a sight to behold, plus the waves come in varying degrees. Whether you are a beginner surfer or a pro, Maui has the type of wave that would suit your surfing level. The shores are also lined up with drink shacks and restaurants so you can relax and regain your energy after kitesurfing.
One super fascinating thing about Maui among kitesurfers is that the weather conditions are kite-friendly and pleasant almost all year round. Although you can kitesurf any time of the year, March to October is still the best period to get big waves and strong winds for an enjoyable kitesurfing experience. Even better is the fact that the water is also warm enough for you to swim if you want to. Undoubtedly, you'll have a fun time kitesurfing at Maui, and the overwhelmingly positive reviews testify to that.
As a beginner kitesurfer, you should play it safe by visiting Kite beach, which is considered as the safest place for kitesurfing. However, it is important to note that if you are a novice kitesurfer, you should first take kiteboarding lessons before attempting to take on the waves.
Advanced and expert kitesurfers can take on Ka'a Point, Flash, and Lanes & Ho'okipa beaches. Beginners should avoid these beaches because they have turbulent winds and dangerous waves.
2. Sri Lanka (Surfing)
Sri Lanka is just perfect whether you are a beginner surfer or an expert. The waves are of varying grades—you'll have some that are easy to catch and tame, while others would give you quite the challenge. Either way, you are bound to experience immense pleasure surfing on the gorgeous blue waves.
It is advisable to take surfing lessons before riding the waves. This is because although the Sri Lankan waves are mostly tamed, they still go wild at times. Taking surfing lessons would enable you to understand how to deal with unruly waves and, of course, to stay safe.
The beach experience is out of this world on this face of the planet. After having a fun time surfing, you can head back to the beachside and take in the whole beautiful scenery. Most people agree that the best time to go surfing in Sri Lanka is April to October as the weather is most pleasant during that period.
Here is an insider secret: head to Hikkaduwa beach to have the most fun surfing experience yet. The waves are enticing, not to mention that the sands are as equally gorgeous.
3. Galapagos Islands, Ecuador (Snorkeling)
If you are a lover of aquatic creatures and are not afraid of bumpy adventures, snorkeling at Galapagos is for you. The Devil's Crown has gained special prominence as the best part of the Galapagos Islands to go snorkeling. Here, you'd see an abundance of coral reefs, schools of tropical fish, sea turtles, marine iguanas, sea lions, and even white-tipped reef sharks. Yes, sharks are there! But, that shouldn't scare you away as they will not bother you because there is no shortage of food, thanks to the ecosystem.
Generally, the Galapagos Islands is safe for snorkeling, but just to be extra sure, keep close to your snorkeling guide. It is also crucial for you to remember safety tips as specified by your guide as these will keep you out of harm's way, especially when potentially dangerous animals are close by.
You are bound to enjoy snorkeling in the Galapagos waters because the aquatic animals are intriguing in their ways. The sea turtles and whales rarely pay people attention; they would just lumber along while you snorkel. On the other hand, the sea lions and dolphins crave attention and might snuggle by you to get that. Regardless, seeing the animals doing their own thing in their natural habitat will thrill you.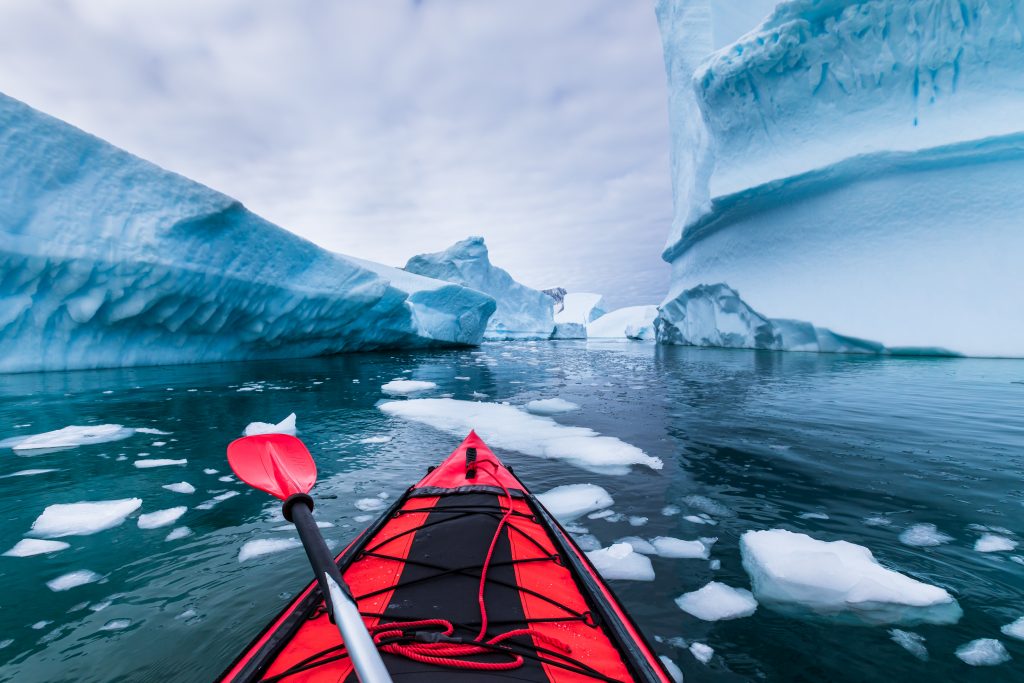 4. Antarctica (Kayaking)
Antarctica is a breathtaking continent that leaves one yearning for more if you look past the chilly weather conditions. Kayaking is a relaxing water activity that most people want to experience. Now, imagine experiencing that in Antarctica, which is considered as "the mythical last earth frontier".
Polar Plunge is considered to be the best place in Antarctica to go kayaking. The scenery is calming and pleasant, so much that you can let go of your stress and worries. Also, better keep an eye out for seals, penguins, sea lions, and humpback whales, to name a few. You don't want to miss them while paddling through the water and brash ice. You would see frosts of diverse shapes and sizes stuck to the landscapes. Some might even be close enough for you to touch.
Furthermore, watch out for iceberg while paddling through. They might be quite tricky to maneuver, so please tread with caution and observe safety measures. It is essential to sit tight in your zodiac boat while kayaking; you do not want to fall into Antarctica's dark and icy waters.
Conclusion
There is a barrage of water activities to partake in if you love the waters. But, just as important as the water sports themselves are the places where you'll be performing these activities. Just like the fact that you can't swim without water, you can't go surfing without the waves. Choosing unique and the best locations, like those mentioned in this article, would give you the best water experience and allow you to get the most out of your water adventure. However, remember to only navigate waves that match your current skill level for you to remain on the safe side.