When you are heading to Orlando, you want to be sure that you make the most out of your time. You also want to be sure that you make the most out of your money too. Stretching your finances and getting the most out of your budget is essential. When you look for deals and offers, you can be sure that you are getting great value for money. When you get great value for money, you also get peace of mind (that you are paying a fair price), and this can be priceless! Now, you know what has to be done. So, what action should you start taking?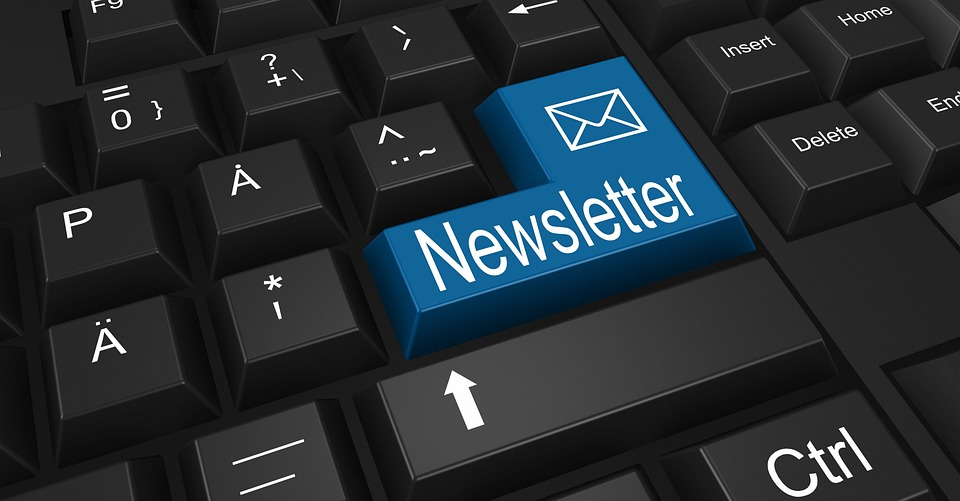 Source: Pixabay, posted July 1st 2019, Tumisu
1. Sign Up for Email Newsletters
Signing up for newsletters can get you the best deals
Yes, brands still communicate some of their best offers and deals through their email newsletters, and often this is the best place to get the deals first. When you are signing up to brands and their newsletters, you will often find that you get a welcome email or even a welcome code. You will also find that in future communications, you may be rewarded for your loyalty. Now, this may mean that you get extra discounts on your signup anniversary, or it may mean you get deals based on your recent purchases and transactions. When you are signing up for newsletters, it is important that your data is accurate. If you apply with inaccurate or false information, you may well find that any future transactions you do are voided. So, always make sure to check your information before going ahead and making any purchase or commitment.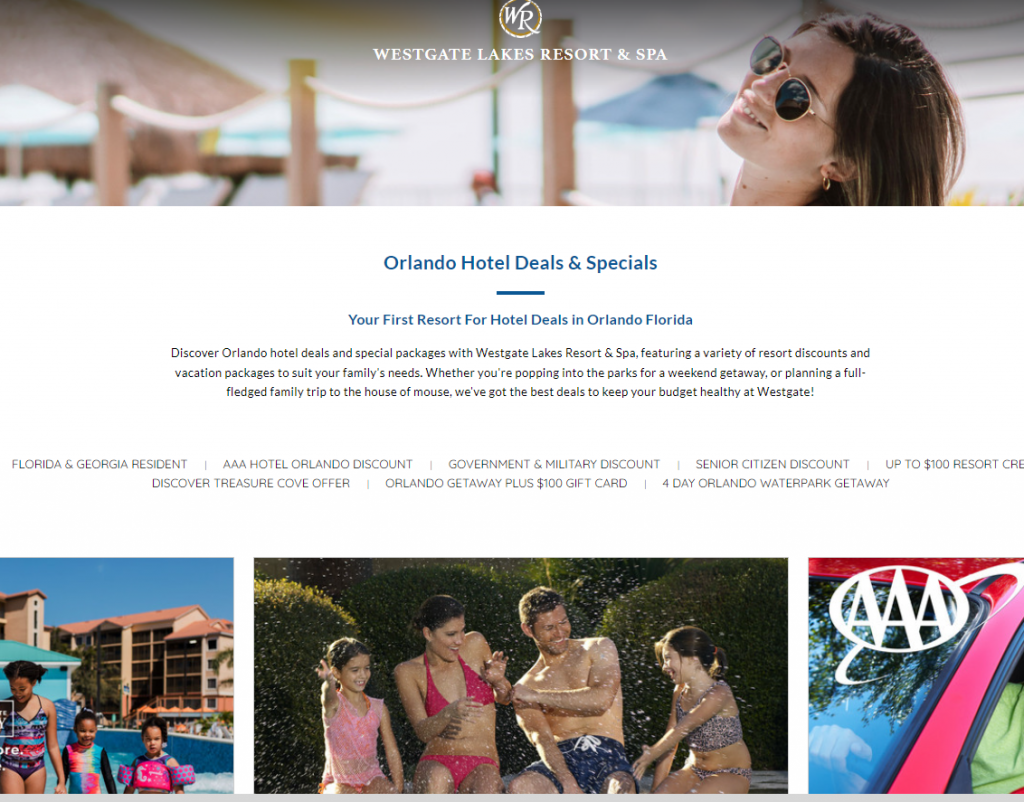 Source: Westgate Resort Orlando Deals and Specials Page, June 2022
2. Visit Websites Regularly
You can often snap up the best deals with regular visits
A lot of businesses and companies rely on their social media presence. However, this does not mean that you should not visit websites regularly. Brands still purchase their best deals and offer on their website, and quite often, you will find that they are on a first visit, first-served basis. Meaning that if you are late to take up an offer or deal – there is no guarantee that it will be honored. When you visit websites regularly, you stand the best chance of securing deals as and when they are uploaded. To make the most of your efforts, you must be regular. Visit at least once a day, because when you do this, you will get the offers first and fast. Always remember to try and visit the same areas and pages, too, as quite often, you will find that businesses post to the same area of their website. For example, on the Westgate page, you will see that there is a deal and offers section. You can guarantee that anytime new deals or offers become available, they will be on here first, and as a matter of course. If you don't visit regularly, and you only visit on an ad-hoc basis, you may find that you miss time-sensitive deals, and this can leave you feeling frustrated – especially if it was a good deal.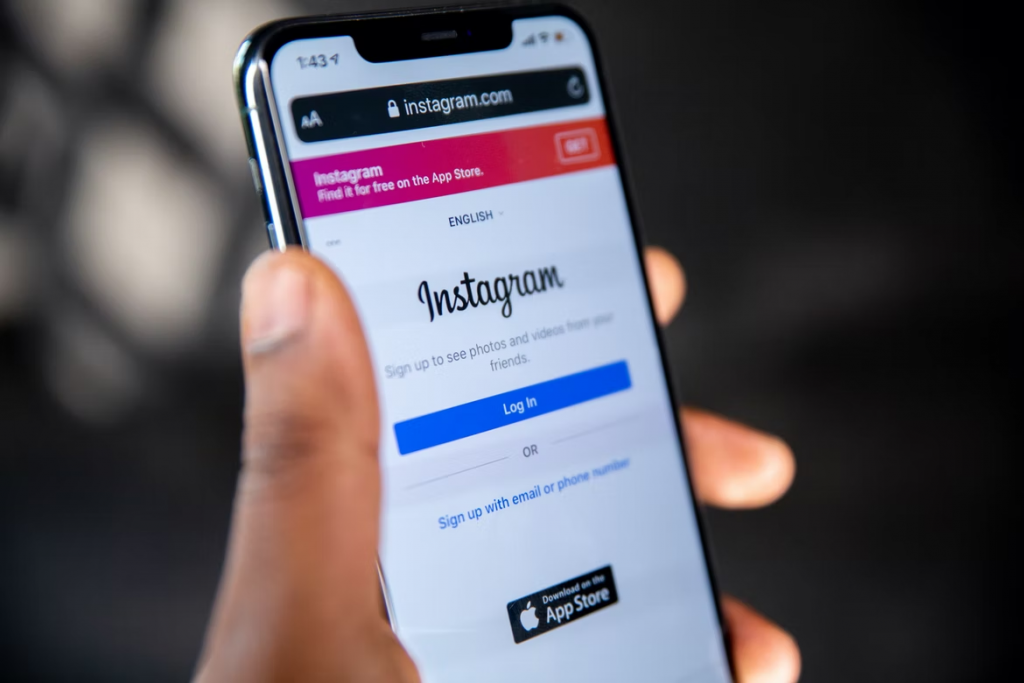 Source: Unsplash, posted on July 17th 2020, Solen Feyissa
3. Get on Social Media
The quickest way to see what is happening is to use social media
No doubt you already have a social media account, but do you know if you are using it as well as you can? When you are active on social media (e.g., following your favorite brands and companies), you are more likely to sport the deals and offers as they are posted. If you follow a page, then you will get notifications every time they post new content. With social media, everything can move very quickly, and this is why it is so important to follow the brands you love, like, and trust. If you miss a promotion, then there is no guarantee it will be honored or will come back around for a second time. You can also browse through the pages of a brand or business that you love and see if there is any pattern to when they are posting deals and offers. If there is a pattern that you can follow, then maybe you could use this to your advantage. You could see and (possibly even predict) when new deals and offers will be posted – especially if you have checked their history and posts over the last six months to a year.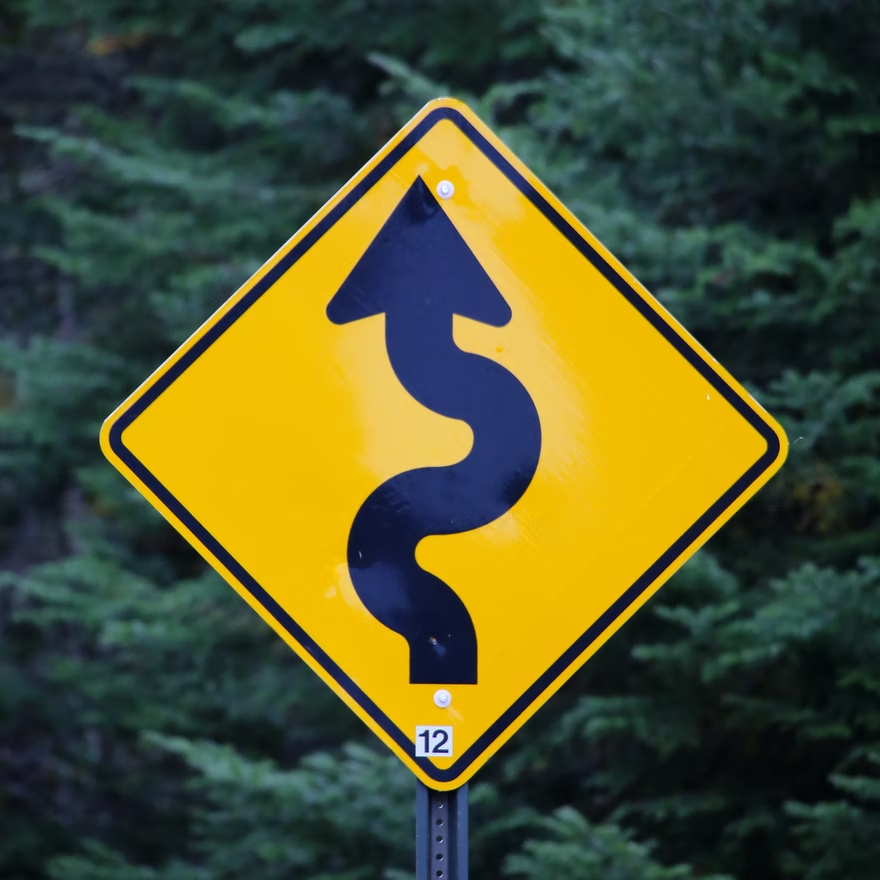 Source: Unsplash, posted on June 13th 2020, Mark König
4. Ask Directly
When you are getting the best deals, don't be afraid to ask directly
This approach works well if you are not afraid to approach a company or brand directly. Asking for a discount, or even asking for money off something, may help you secure a better deal or possibly even a better price. When it comes to asking directly, there is, of course, a right way to do it and a wrong way to do it. Being too pushy or being over the top is never going to work. Instead, focusing on the facts and focusing on being polite is more important than anything. For example, if you have used or followed a brand or company for a little while, then tell them. If you have used them religiously, then reach out to them and let them know.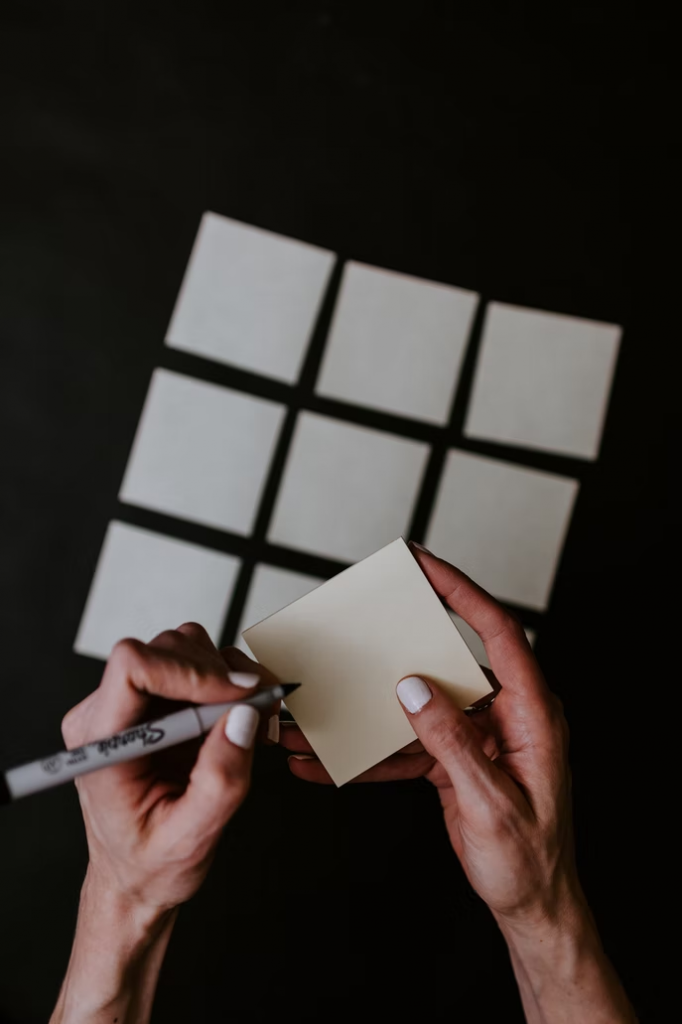 Source: Unsplash, posted on March 24th 2021, Kelly Sikkema
5. Booking in Advance
Get organized, write to-do lists and book in advance
If you are visiting any theme parks or attractions in Orlando, it is beneficial to book in advance. You can get the best prices and offers when you book in advance. This may mean organizing your trip to Disneyworld 6 months in advance. Or, it may mean organizing a day trip to Seaworld in advance. Even if you are only saving a few dollars here and there on each trip or excursion you book, you will save money.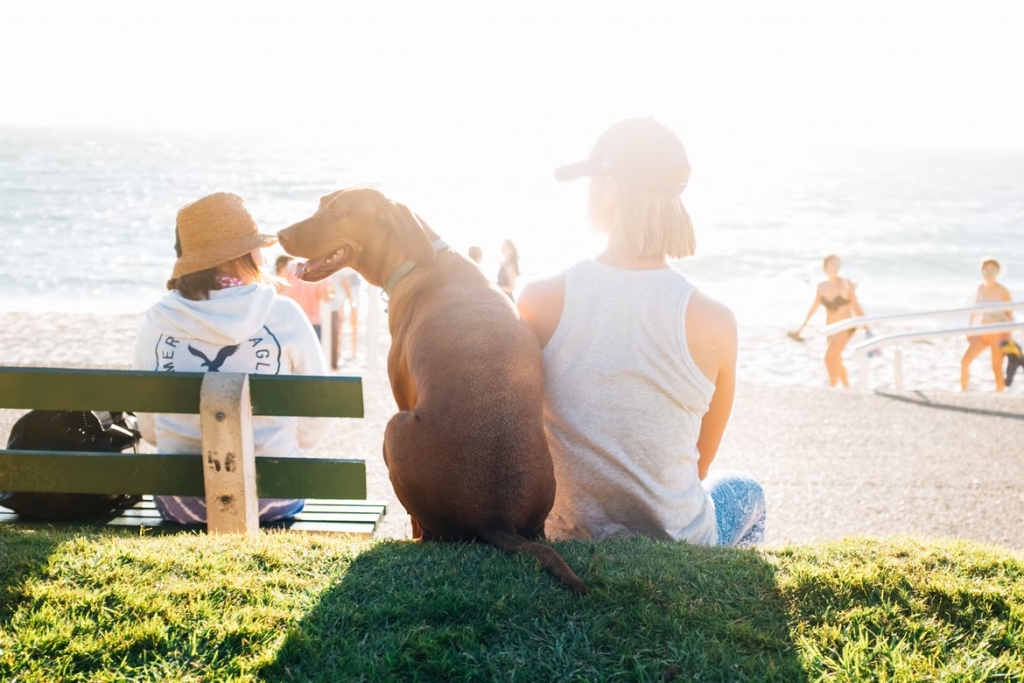 Source: Unsplash, posted on June 26th 2016, Alvin Balemesa
6. Follow Family Bloggers
Family bloggers often have valuable experience with Orlando and Disney
There are lots of families that enjoy going to Orlando for vacations on a regular basis, and there are also lots of bloggers who blog about their experiences. Quite often, you will find that they have paid sponsorship or even paid links with the places that they have stayed. Or even with the places that they have visited. Using their referral links or even using their codes and coupons can be beneficial as it can save you money. When it comes to finding family bloggers to follow, you may find it beneficial to follow those families that have more than one child, simply because you will often notice that these get access to the best deals.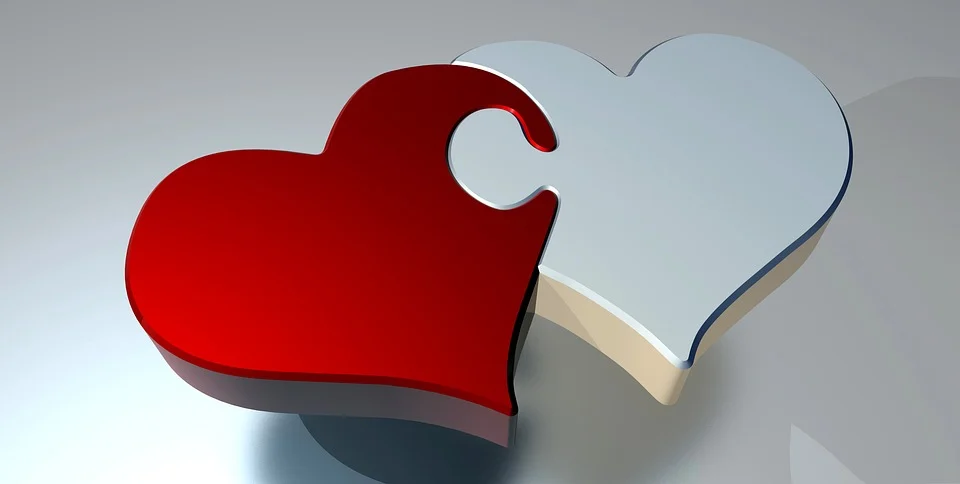 Source: Pixabay, posted on October 7th 2016, PIRO4D
7. Look For Partnerships
Partnerships can save you money
In the run-up to special events, you can often find that brands are linking up together and joining forces. Quite often, these partnerships will run various offers and deals that will allow you to stay with them for a discounted rate or even eat there for a discounted rate. These partnerships usually happen all throughout the year, so it is important to look for them in anticipation of your vacation. You could find that a food manufacturer is linking up with a theme park or other attraction to give you discounted tickets. Or you could find that selected large ticket purchases give you access to saving money off in the parks. Some partnerships may not always be glaringly obvious, so always remember to look out for them and watch out for the small print, as it can sometimes catch you out.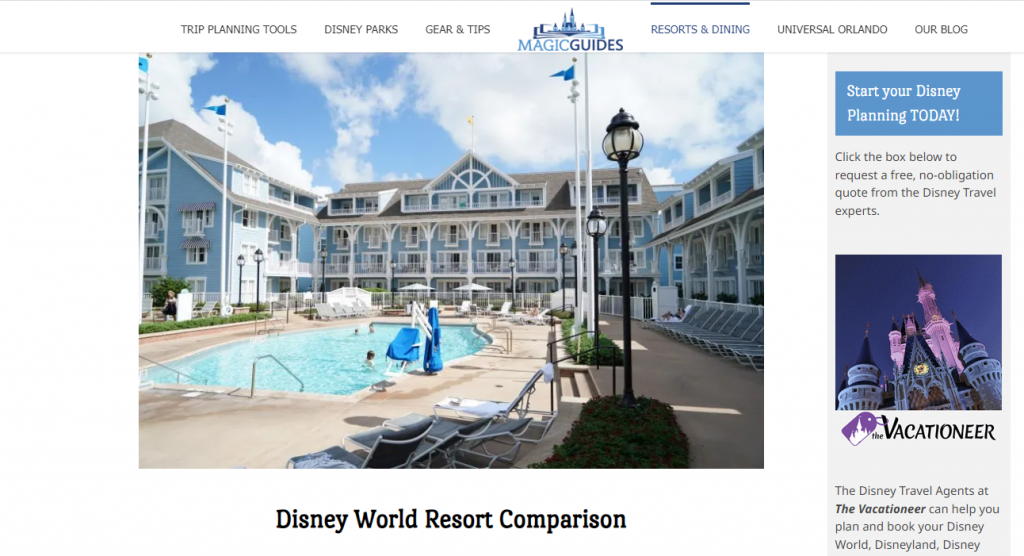 Source: Magicguides June 2022 comparison page
8. Using Comparison Websites
Compare resorts, and plan a trip easily
When you are booking your travel for your vacation to Orlando, it is important to use comparison websites. These will allow you to compare everything, from your flights to car hire. When you use comparison websites, you can see if you are saving and if you are getting a good deal or not. If you are not using comparison websites, then you are missing a trick, and this also means you are most likely buying your vacation through a package. This is not ideal as it can cost you more to do it this way. When using comparison websites, be mindful that they may add extra fees or commissions to their figures. So, until you see a final price or a final figure, always keep in mind that taxes and extras may need to be added.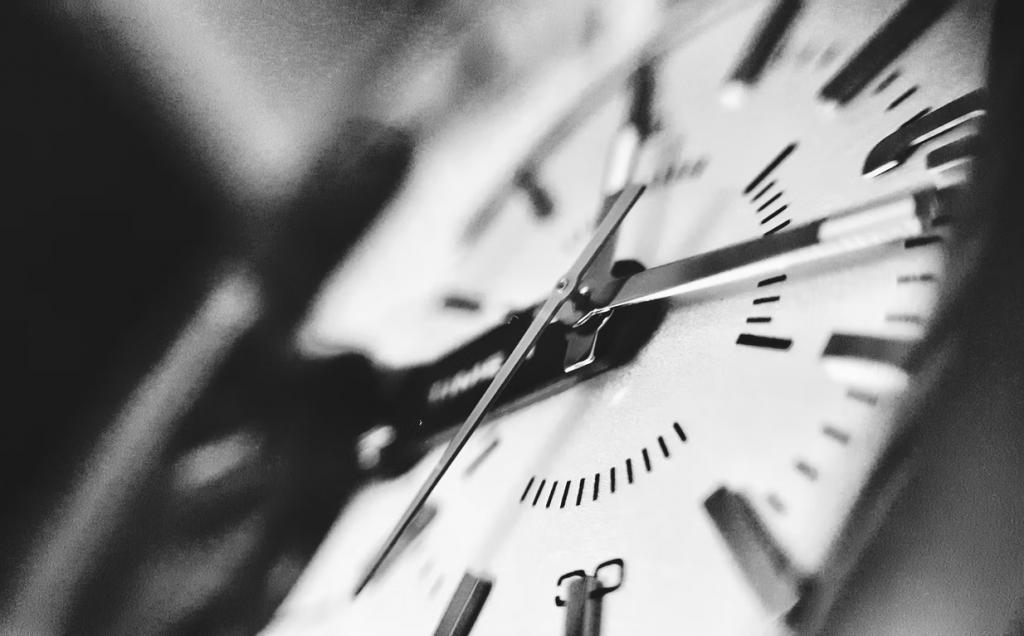 Source: Unsplash, posted on December 9th 2017, noor Younis
9. Purchasing Off-Season
Save money by going off-season
You are going to save more on your Orlando vacation if you look at purchasing off-season. You will save money on lots of areas of your vacation, including accommodation, flights and even other modes of transport. In the season (usually when schools are on holiday), you will find that prices will jump. They will then relax and even out a bit in the off-season. So, try and be mindful if you can of different prices, and try to plan your vacation around the best offers and deals. You may not be able to build a whole vacation out of deals and offers, but you may be able to use them to your advantage to save a great deal of money on your final bills.
These nine tips will help you to get the best deals on your next Orlando vacation, whether you are traveling with your family or a group of friends, so all you have to worry about is fitting everything into your suitcase, and planning exactly what you're going to get up to on your vacation.