Having the right documents while traveling is essential to having a great trip and this is especially the case if you are traveling outside of your home country. Having a few different kinds of identification on you can help things run a little smoother in emergency situations. Read on to see what documentation you should take with you on your next international trip.
License
Your driver's license or government-issued ID is among the most important forms of identification you can have on you while traveling. Your license is enough to show your age, identity, and sometimes your physical description, which are all important pieces of information to keep with you.
Passport and Visa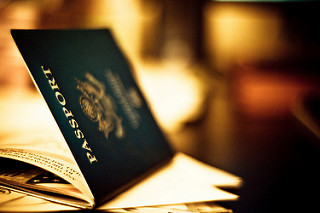 Image via Flickr by LucasTheExperience
Another form of identification you will need to keep on you for international travel is your passport. While your passport will not expire for 10 years after getting it, make sure it is up to date because it can take up to a couple of months to get a new one. Although it is not a document, you need to have your visa stamped in your passport to let officials know where you are coming from, where you are visiting, and how long you will be there.
Travel Protection Plan
A travel protection plan is also important to carry with you in case of an emergency. Membership services from MedjetHorizon can offer you 24/7 response and evacuation protection in situations like a natural disaster, terrorism, pandemic, or political unrest. Medical emergencies happen at any time. This membership assists with arranging transportation from one hospital to another, acquiring an emergency medical cash advance, and more. You will want to make sure you have this information on hand, so you can take advantage of the services available to you, should you need them.
Medical Card
Are you taking any medication? Do you have any medical conditions that could interfere with your trip? Do you have emergency contacts? It is important to answer these questions and keep that information on a card, preferably laminated. Keeping your medical information on a card can help alert people you are traveling with to any conditions that could affect your overall health.
Vaccine Certifications
In addition to any medical information you already have, you will want to have vaccine certificates available. Depending on where you are visiting, having these certificates may be mandatory. Be sure to check your destination country beforehand for any vaccines that are necessary for entry.
Big Item Receipts 
While not many people remember to grab them, consider carrying any accommodation confirmations with you while traveling. Make sure you have things like hotel or car rental invoices with you to be able to prove that you are staying in the country that you are visiting. Confirmations or reservations can be used to give yourself extra credibility, at least until you can produce other documentation. While these documents can be easily forgotten, they are important to back up your other identification and documentation.
You might think of other documents to take with you on your next international trip, but these are some of the most important. Make copies of each of these documents and keep them on you or secured somewhere in your bag.