There is a certain vibe that comes to mind when people think of bachelor pads. We start imagining a flat with leather couches, a complete entertainment suite, a fully stocked bar, and a minimalist colour scheme. Of course, we all have this idea of what a bachelor pad looks like. Thanks to countless films, series and sitcoms.
But a lot of men now are putting careful thought into how their home looks and feels. The challenge comes from making sure their interests and hobbies are shown through the style and decor. How a bachelor pad is set up should allow its owner to tell their guests everything about them without too much explanation. More importantly though, every detail of the pad must represent the owner's personality.
So if you are bachelor looking for a guide to create the ultimate bachelor pad, let these tips and tricks help you out.
Industrial design and functional art vs. wall art pieces and chic style
Before we get into the furniture for each area of the pad, let us talk about what the overall design theme is going to be. With bachelor pads, there are two aesthetics they seem to choose from when designing their home: chic and sophisticated or industrial and casual.
We have already said that designing a pad must show the owner's personality, but there must be a dominating theme that harmonises all the quirks and hobbies you decide to show your guests. So before you purchase your furniture, you must first consider what theme you want.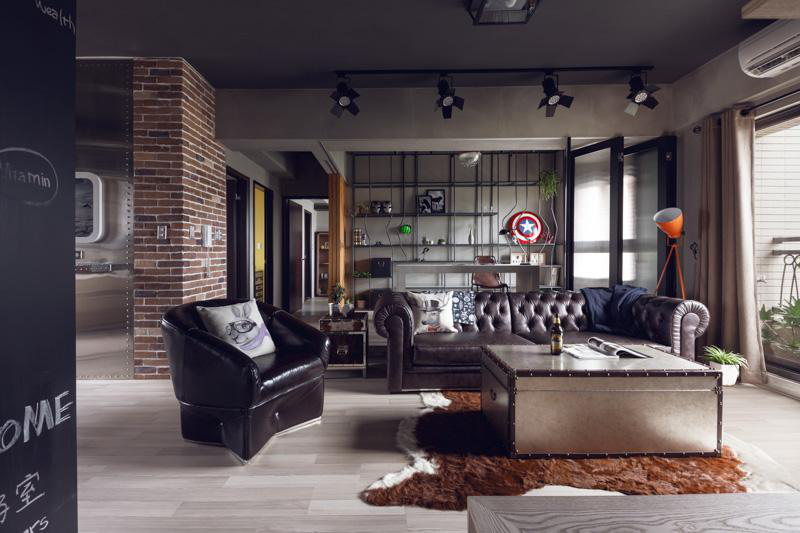 Source: https://www.homedit.com/guide-to-a-perfect-bachelor-pad/project-hong-kong-house-living-bachelor-design/
An industrial design with functional art does not appeal to a lot of men because of its more masculine vibe, but it is because of the unique mix of leather, wood, and metal. This gives the pad a rustic and yet very modern look, like old-world meets the contemporary luxuries of city living. To execute this, you can choose a focal point, it can be a bike you can mount on a wall, old records, or even piping which you can use as shelves. This is perfect if the pad is not as spacious since you are basically using art as functional furniture.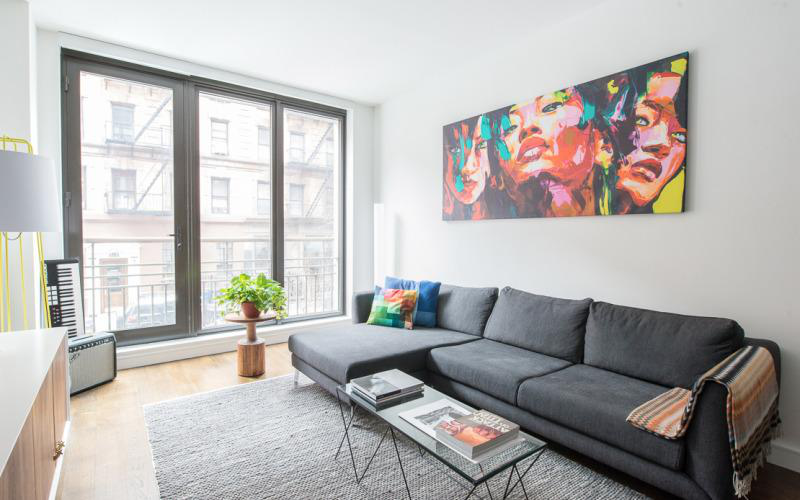 Source: https://www.homepolish.com/mag/an-art-filled-east-village-bachelor-pad
Wall art pieces, on the other hand, with a lighter colour palette gives the pad a more sophisticated and chic style. Note that you do not have to put up classical art pieces like a Monet or a Van Gogh to make a humble bachelor pad look opulent; on the contrary, any art piece will do. You can choose to hang pop art, a painting, even a framed poster of your favourite film or band will totally do the work.
The theme you choose will dictate the colour scheme of the whole pad and the furniture you will need to repurpose or purchase for your home.
Living room
The first thing you need to think about is whether you want your pad to be where your friends can hang out or you just want it to be your own "tower of solitude."
If it is the former, you definitely need a bigger couch. Consider decorating your living for guests, like putting an L-shaped couch, low-level coffee tables for easy movement, and an entertainment system for when you want to do a movie marathon or play video games.
If it is the latter, you can just purchase a couple of lounge chairs with a small table right in between. You can retire after a long day at work on those chairs, face the window so you can get a view of the nightlife in the city, and then enjoy a nightcap.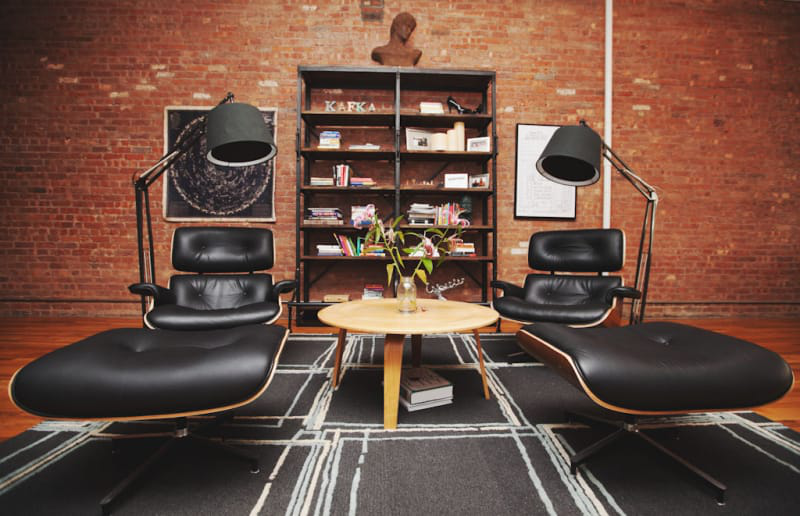 (img source: https://www.homepolish.com/)
Kitchen
The things you need to buy for the kitchen does not need to be dictated too much by vibe, it just needs to be practical. Let us take fridges, as an example. Depending on your style and need, you can either buy a bar or full size fridge for your pad. Which means you can buy the usually off-white fridges if your design follows a lighter colour palette, or you can choose those sleek silver fridges if you went the more industrial design route.
However, there are some kitchen appliances that need careful research and inspection when buying. But there are sites like https://www.mark-appliance.com/ who can supply technicians to repair any appliances you happen to buy, that don't meet your standards or work the way they should. For futher information, be sure to read articles like this fridge buying guide that I found on Harvey Norman.
Bedroom
We spend a third of our lives asleep. So not only should your bedroom look amazing, it must be utterly comfortable too.
You need to make sure that the theme you started with is still executed here, but you have the freedom to mix and match for as long as the designs look well together.
For instance, even if you used an industrial theme for the whole pad, you can still hang wall art in your bedroom. Pair exposed bricks and wooden flooring with an artsy picture of yourself or a pop art of your dog.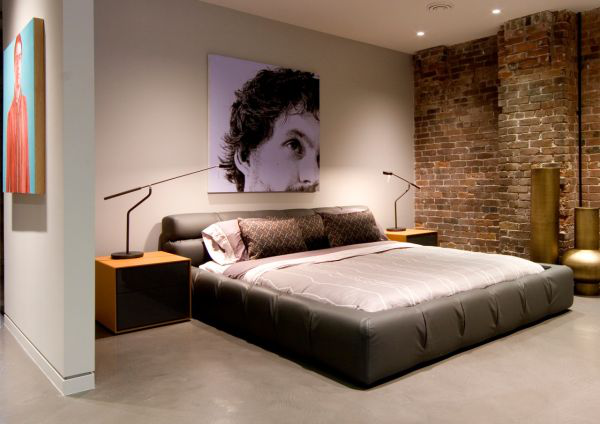 (img src: https://www.decoist.com/2013-11-06/bachelor-pad-bedroom-ideas/)
The most important note is to make sure to keep your pad clean. All this talk of design and style is nothing if you cannot keep it immaculate. Schedule a general cleaning session at least twice a month so that you can get into every nook and cranny of your home. Remember that while your colour palette, decor, and furniture shows guests your personality, you do not want them to leave thinking that you are a messy owner.