The capital of the United Kingdom has long been a famous filming location for many blockbusters over the years. So, whether you're a film fanatic or simply looking for some fun and unique things to do in London, visiting one of the well-known movie locations dotted around the city makes an exciting and enjoyable activity.
The city is full of landmarks that have been used as picturesque backdrops for cinema and television. Take a look at some of these iconic spots where you can take pictures that make it seem like you're starring in some of your favorite films!
1. Kings Cross Station
Kings Cross Station is in the heart of London. It is a bustling station, as it is the central transportation hub for trains to and from Scotland. On top of that, there are many platforms within this location that buses stop at. To get to King's Cross station, you can easily take a bus from Manchester to London or ride the train from Oxford.
The station itself was built in 1852 and originally had only five tracks. However, it was so popular that it had expanded to accommodate 14 tracks within ten years. Today, King's Cross Station is one of London's most essential railway terminals.
Aside from that, this area became a popular spot for film and television crews to shoot their films. Kings Cross Station holds a special place in many Londoners' hearts as the station where children wave goodbye to their parents as they get on the train to Hogwarts. The famous Platform 9 3/4 is the starting point of the Harry Potter journey and was created by a small trolley that kids pushed through a wall at the station.
The film crew left the trolley at Kings Cross as an attraction for Harry Potter fans, but be prepared to queue if you want to take a picture with it!
2. The Sherlock Holmes Museum
If you're a fan of the BBC's modern Sherlock Holmes, a trip to the Sherlock Holmes Museum is something you won't want to miss. Located at 221B Baker Street, the museum is a Victorian-era townhouse that honors Sir Arthur Conan Doyle's literary character and the BBC TV series.
The museum resembles Holmes's home as depicted in the original stories featuring everything from British antique furniture and oil paintings to Victorian-era personal items like ladies' slippers and a hat rack. If you're interested in fully immersing yourself in the world of Sherlock Holmes, you can also take part in one of the museum's theatrical performances.
These shows at night include dinner and exciting reenactments that will make you feel like you've stepped right into one of Holmes's adventures—a perfect way to get into character.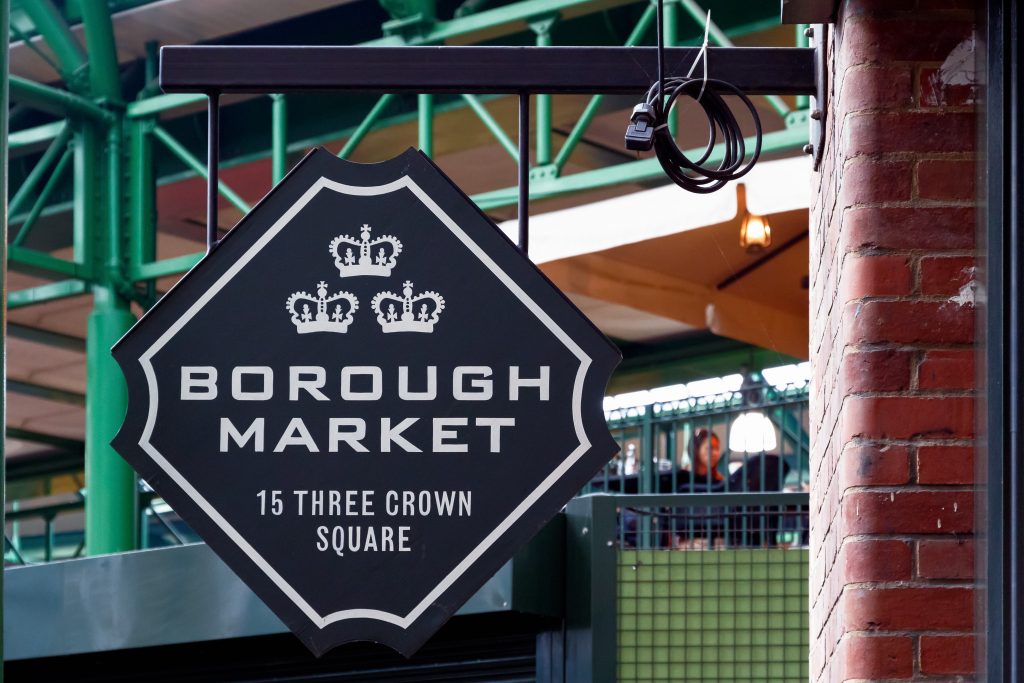 3. Borough Market
Borough Market is one of the largest and oldest food markets in London. It has been established for a thousand years yet has only recently been discovered by tourists. Its renaissance began when films such as Bridget Jones's Diary and Lock, Stock, and Two Smoking Barrels featured it.
Since then, it has appeared in films such as The Dark Knight, Harry Potter and the Prisoner of Azkaban, Sweeney Todd, and World War Z. Borough Market is near London Bridge underground station. You can take a short walk to this bustling marketplace from there.
This market has also become a popular tourist attraction in London because of its numerous stalls with delicious food and drinks such as cheese, bread, fish, meat, spices, etc. It also features flowers, clothes, and other lifestyle products.
4. Notting Hill
Notting Hill is a beloved film that introduced the world to Hugh Grant and Julia Roberts, and the movie is set in the equally precious part of London known as Notting Hill. This area is full of beautiful attractions and places to visit, with many of these spots featured on screen in this iconic movie.
William Thacker's famous blue door, at 280 Westbourne Park Road, is a must-see location for any fan. Inside his flat, you can see where they shot the favorite scene between him and Anna Scott, and there are many other scenes shot around this address.
Also nearby are Portobello Road Market and Electric Cinema; both are featured in Notting Hill and make for exciting places to visit in their own right. The market is one of the largest markets in London, offering antiques, food stalls, fashion boutiques, and much more.
5. Big Ben And The Parliament
Big Ben and the Houses of Parliament have been featured in several movies, including Cars 2 and The Dark Knight Rises. The Elizabeth Tower, which is more commonly known as Big Ben, is located in Westminster, London, and is one of the most iconic landmarks in England.
The tower was designed by Augustus Pugin between 1839 and 1859 and stood at 320 feet. The clock tower got its name from Sir Benjamin Hall, the first commissioner of works when they built the tower. The Houses of Parliament are a must-see attraction in London, even if you're not a fan of British politics.
Takeaway
As you can see, London has plenty of great things to do and see for film lovers. So, if you're a movie buff and a travel buff, London is the place for you. It has everything from the classics to the modern-day blockbusters, and they are worth seeing at least once.